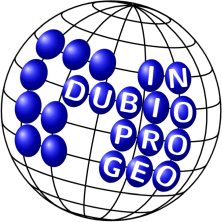 Hier steht Ihnen eine Sammlung von Links auf wissenschaftliche Dokumente im World Wide Web zu wichtigen Themen der Geodäsie zur Verfügung. Zur Zeit sind 3029 Dokumente mit insgesamt 100.000 Druckseiten und 5 GByte enthalten. Letztes Update mit Überprüfung aller Links: : 08.03.2021
152 Treffer in 3037 Dokumenten, davon 31 bis 40 angezeigt, sortiert nach Erscheinungsjahr.
Link
Autor(en)
Titel
Jahr
Typ
Seiten
MByte
Konak H, Dilaver A, Kurt O
The Fuzzy Logic approach in the process of outlier detection
1999
0
0.1
Hekimoglu S, Koch KR
How can reliability of the robust methods be measured?
1999
18
0.1
Brovelli MA, Sansò F, Triglione D
Different approaches for outliers detection in digital terrain models and gridded surfaces within the GRASS geographic information system environment
1999
8
0.1
Wiśniewski Z
A concept of robust estimation of variance coefficient (VR-estimation)
1999
0
0.1
Teunissen PJG
Quality control and GPS
1998
0
0.1
Schaffrin B, Toutenburg H
The impact of missing values on the reliability measures in linear model
1998
0
0.1
Prószyński W
Reliability measures for the systems with correlated observations—a comparative study
1998
0
0.1
Konak H, Dilaver A
The methods used in outlier localization in geodetic networks and their behaviors
1998
0
0.1
Koch KR, Yang Y
Konfidenzbereiche und Hypothesentests für robuste Parameterschatzungen
1998
0
0.1
Kasietczuk B
Estimation of asymmetry and kurtosis coefficients in the process of geodetic network adjustment by the least-squares method
1997
6
0.1
Schon gewusst?

= offener Zugriff,

= beschränkter Zugriff,

= nur für HTW Nutzer,

= kein Online-Zugriff