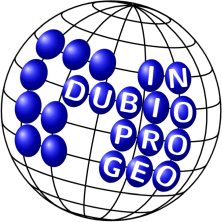 Hier steht Ihnen eine Sammlung von Links auf wissenschaftliche Dokumente im World Wide Web zu wichtigen Themen der Geodäsie zur Verfügung. Zur Zeit sind 3029 Dokumente mit insgesamt 100.000 Druckseiten und 5 GByte enthalten. Letztes Update mit Überprüfung aller Links: : 08.03.2021
152 Treffer in 3037 Dokumenten, davon 21 bis 30 angezeigt, sortiert nach Erscheinungsjahr.
Link
Autor(en)
Titel
Jahr
Typ
Seiten
MByte
Mira J, Sanchez MJ
Prediction of deterministic functions: an application of a Gaussian kriging model to a time series outlier problem
2004
15
0.1
Kuusniemi H, Lachapelle G, Takala J
Position and velocity reliability testing in degraded GPS signal environments
2004
12
0.1
Berber M, Hekimoglu S
What is the reliability of conventional outlier detection and robust estimation in trilateration networks?
2003
11
0.1
Baselga S
Adjustment and result interpretation of GPS-terrestrial high precision local networks applying multivariate statistical analysis and robust estimation
2003
0
0.1
Dai L, Rizos Ch, Han Sh
An Adaptive Procedure For Carrier Phase-Based GPS/GLONASS Positioning
2001
17
0.1
Kokyo Ch
Outlier detection for stationary time series
2001
17
0.1
Vaniček P, Craymer MR, Krakiwsky EJ
Robustness analysis of geodetic horizontal networks
2001
11
0.1
Barzaghi R, Borghi A, Brovelli MA, Sona G
A comparison between two methods for outliers detection in DTM data
2001
0
0.1
Qingming G, Jinshan L
Generalized Shrunken-Type Robust Estimation
1999
8
0.1
Wang J, Chen Y
Outlier Detection and Reliability Measures for Singular Adjustment Models
1999
0
0.1
Schon gewusst?

= offener Zugriff,

= beschränkter Zugriff,

= nur für HTW Nutzer,

= kein Online-Zugriff