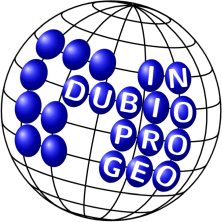 Hier steht Ihnen eine Sammlung von Links auf wissenschaftliche Dokumente im World Wide Web zu wichtigen Themen der Geodäsie zur Verfügung. Zur Zeit sind 3029 Dokumente mit insgesamt 100.000 Druckseiten und 5 GByte enthalten. Letztes Update mit Überprüfung aller Links: : 08.03.2021
Sie suchen nach Autor Lienhart W.
35 Treffer in 3037 Dokumenten, davon 1 bis 10 angezeigt, sortiert nach Erscheinungsjahr.
Link
Autor(en)
Titel
Jahr
Typ
Seiten
MByte
Ehrhart M, Lienhart W
Development and evaluation of a long range image-based monitoring system for civil engineering structures
2015
AngF
13
0.1
Ehrhart M, Lienhart W
Image-based dynamic deformation monitoring of civil engineering structures from long ranges
2015
AngF
14
0.1
Lienhart W, Ehrhart M
State of the Art of Geodetic Bridge Monitoring
2015
Aufs
8
0.1
Lienhart W, Klug F
Erfassung und Analyse der Blockfugenbewegungen einer Staumauer im Pumpspeicherbetrieb
2015
Proj
10
0.1
Lienhart W, Klug F
Continuous monitoring of a large concrete arch dam using Fibre Bragg Grating sensors
2015
Proj
10
0.1
Lienhart W, Klug F
New concepts for the monitoring of concrete joints movements of water dams in pump-storage operation
2015
AngF
17
0.1
Lienhart W
Totalstationen für Deformationsmessungen
2015
Uebe
2
0.1
Lienhart W
Micrometre-level Deformation Monitoring of a Concrete Dam
2015
Proj
3
0.1
Moser F, Lienhart W, Woschitz H, Schuller H
Long term monitoring of reinforced earth structures using distributed fiber optic sensing
2015
AngF
10
0.1
Klug F, Lienhart W, Woschitz H
High resolution monitoring of expansion joints of a concrete arch dam using fiber optic sensors
2014
Proj
13
0.1
Schon gewusst?

= offener Zugriff,

= beschränkter Zugriff,

= nur für HTW Nutzer,

= kein Online-Zugriff