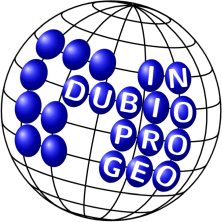 Hier steht Ihnen eine Sammlung von Links auf wissenschaftliche Dokumente im World Wide Web zu wichtigen Themen der Geodäsie zur Verfügung. Zur Zeit sind 3029 Dokumente mit insgesamt 100.000 Druckseiten und 5 GByte enthalten. Letztes Update mit Überprüfung aller Links: : 08.03.2021
Sie suchen nach Autor Erdogan B.
7 Treffer in 3037 Dokumenten, davon 1 bis 7 angezeigt, sortiert nach Erscheinungsjahr.
Link
Autor(en)
Titel
Jahr
Typ
Seiten
MByte
Erdogan B, Hekimoglu S, Durdag UM, Ocalan T
Empirical estimation of the power of test in outlier detection problem
2019
16
0.3
Erdogan B
An outlier detection method in geodetic networks based on the original observations
2014
Aufs
13
0.1
Hekimoglu S, Erdogan B, Soycan M, Durdag UM
A Univariate Approach for Detecting Outlier in Geodetic Networks
2013
GruF
0
0.1
Hekimoglu S, Erdogan B
New Median Approach to Define Configuration Weakness of Deformation Network
2012
GruF
8
0.1
Hekimoglu S, Erdogan B, Erenoglu RC
A New Outlier Detection Method Considering Outliers As Model Errors
2012
GruF
12
0.1
Hekimoglu S, Erdogan B, Erenoglu RC, Hosbas RG
Increasing the efficacy of the tests for outliers for geodetic networks
2011
GruF
18
0.1
Hekimoglu S, Erdogan B, Butterworth S
Increasing the Efficacy of the Conventional Deformation Analysis Methods: Alternative Strategy
2010
GruF
10
0.1
Schon gewusst?

= offener Zugriff,

= beschränkter Zugriff,

= nur für HTW Nutzer,

= kein Online-Zugriff