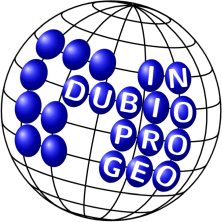 Hier steht Ihnen eine Sammlung von Links auf wissenschaftliche Dokumente im World Wide Web zu wichtigen Themen der Geodäsie zur Verfügung. Zur Zeit sind 3029 Dokumente mit insgesamt 100.000 Druckseiten und 5 GByte enthalten. Letztes Update mit Überprüfung aller Links: : 08.03.2021
Sie suchen nach Autor Yang Y.
15 Treffer in 3037 Dokumenten, davon 1 bis 10 angezeigt, sortiert nach Erscheinungsjahr.
Link
Autor(en)
Titel
Jahr
Typ
Seiten
MByte
Yang Y, Gao W, Zhang X
Robust Kalman filtering with constraints: a case study for integrated navigation
2010
GruF
9
0.1
Aggarwal P, Yang Y, Niu X, El-Sheimy N
Cost-effective Testing and Calibration of Low Cost MEMS Sensors for Integrated Positioning, Navigation and Mapping Systems
2006
AngF
9
0.1
Yang Y, Xu T, Song L
Robust Estimation of Variance Components with Application in Global Positioning System Network Adjustment
2005
GruF
6
0.1
Yang Y, Gao W
Integrated navigation based on robust estimation outputs of multi-sensor measurements and adaptive weights of dynamic model information
2005
4
0.1
Yang Y, Song L, Xu T
Robust estimator for correlated observations based on bifactor equivalent weights
2002
GruF
6
0.1
Yang Y, He H, Xu G
Adaptively robust filtering for kinematic geodetic positioning
2001
GruF
8
0.1
Yang Y
Robust estimation of geodetic datum transformation
1999
GruF
7
0.1
Yang Y, Cheng MK, Shum CK, Tapley BD
Robust Estimation of Systematic Errors of Satellite Laser Range
1999
AngF
5
0.1
Koch KR, Yang Y
Robust Kalman filter for rank deficient observation models
1998
GruF
6
0.1
Koch KR, Yang Y
Konfidenzbereiche und Hypothesentests für robuste Parameterschatzungen
1998
0
0.1
Schon gewusst?

= offener Zugriff,

= beschränkter Zugriff,

= nur für HTW Nutzer,

= kein Online-Zugriff