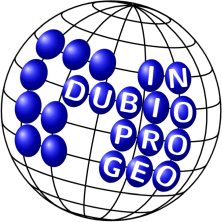 Hier steht Ihnen eine Sammlung von Links auf wissenschaftliche Dokumente im World Wide Web zu wichtigen Themen der Geodäsie zur Verfügung. Zur Zeit sind 3029 Dokumente mit insgesamt 100.000 Druckseiten und 5 GByte enthalten. Letztes Update mit Überprüfung aller Links: : 08.03.2021
Sie suchen nach Autor Schaffrin B.
9 Treffer in 3037 Dokumenten, davon 1 bis 9 angezeigt, sortiert nach Erscheinungsjahr.
Link
Autor(en)
Titel
Jahr
Typ
Seiten
MByte
Jazaeri Sh, Schaffrin B, Snow KB
On Weigthed Total Least-Squares Adjustment with Multiple Constraints an Singular Dispersion Matrices
2014
GruF
12
0.1
Schaffrin B
Connecting the Dots: The Straight-Line Case Revisited
2007
GruF
10
0.1
Snow KB, Schaffrin B
Three-dimensional outlier detection for GPS networks and their densification via the BLIMPBE approach
2003
AngF
10
0.1
Schaffrin B, Toutenburg H
The impact of missing values on the reliability measures in linear model
1998
0
0.1
Schaffrin B
Reliability Measures for Correlated Observations
1997
GruF
12
0.1
Schaffrin B, Wang ZW
Multiplicative outlier search using homBLUP and an equivalence theorem
1994
0
0.1
Middel B, Schaffrin B
Robust determination of the Earth's Gravity Potential Coefficients
1987
0
0.1
Schaffrin B
On Robust Collocation
1986
0
0.1
Aduol FWO, Schaffrin B
On outlier identification in geodetic networks using principal component analysis
1986
0
0.1
Schon gewusst?

= offener Zugriff,

= beschränkter Zugriff,

= nur für HTW Nutzer,

= kein Online-Zugriff