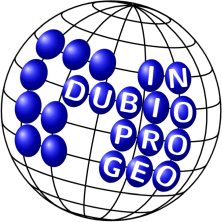 Hier steht Ihnen eine Sammlung von Links auf wissenschaftliche Dokumente im World Wide Web zu wichtigen Themen der Geodäsie zur Verfügung. Zur Zeit sind 3029 Dokumente mit insgesamt 100.000 Druckseiten und 5 GByte enthalten. Letztes Update mit Überprüfung aller Links: : 08.03.2021
Sie suchen nach Autor Koch KR.
35 Treffer in 3037 Dokumenten, davon 1 bis 10 angezeigt, sortiert nach Erscheinungsjahr.
Link
Autor(en)
Titel
Jahr
Typ
Seiten
MByte
Koch KR
Monte Carlo Methods
2017
Lehr
30
0.1
Koch KR, Kargoll B
Outlier detection by the EM algorithm for laser scanning in rectangular and polar coordinate systems
2015
GruF
12
0.1
Koch KR
Prediction of Missing Measurements for Laser Scanners
2015
GruF
5
0.1
Koch KR
Robust estimations for the nonlinear Gauss Helmert model by the expectation maximization algorithm
2014
GruF
9
0.1
Koch KR
Predicting Missing Observations in Linear Models
2014
GruF
5
0.1
Koch KR, Kargoll B
Expectation maximization algorithm for the variance-inflation model by applying the t-distribution
2013
GruF
9
0.1
Koch KR
Comparison of two robust estimations by expectation maximization algorithms with Huber's method and outlier tests
2013
GruF
9
0.1
Koch KR
Robust estimation by expectation maximization algorithm
2013
GruF
10
0.1
Koch KR, Schmidt M
N-dimensional B-spline surface estimated by lofting for locally improving IRI
2011
GruF
11
0.1
Koch KR
Data compression by multi-scale representation of signals
2011
GruF
12
0.1
Schon gewusst?

= offener Zugriff,

= beschränkter Zugriff,

= nur für HTW Nutzer,

= kein Online-Zugriff