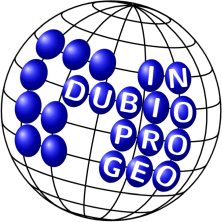 Hier steht Ihnen eine Sammlung von Links auf wissenschaftliche Dokumente im World Wide Web zu wichtigen Themen der Geodäsie zur Verfügung. Zur Zeit sind 3029 Dokumente mit insgesamt 100.000 Druckseiten und 5 GByte enthalten. Letztes Update mit Überprüfung aller Links: : 08.03.2021
Sie suchen nach Autor Berber M.
8 Treffer in 3037 Dokumenten, davon 1 bis 8 angezeigt, sortiert nach Erscheinungsjahr.
Link
Autor(en)
Titel
Jahr
Typ
Seiten
MByte
Yetkin M, Berber M, Inal C
Importance of probability levels for robustness analysis of geodetic networks
2014
GruF
10
0.1
Yetkin M, Berber M
Application of the Sign-Constrained Robust Least-Squares Method to Surveying Networks
2013
GruF
7
0.1
Yetkin M, Berber M
Implementation of robust estimation in GPS networks using the Artificial Bee Colony algorithm
2013
GruF
8
0.1
Berber M
Robustness Analysis Of Geodetic Networks
2006
Thes
138
0.1
Berber M, Dare PJ, Vaniček P
Robustness Analysis of Two-Dimensional Networks
2006
8
0.1
Berber M, Dare PJ, Vaniček P, Craymer MR
On The Application Of Robustness Analysis To Geodetic Networks
2003
GruF
7
0.2
Hekimoglu S, Berber M
Effectiveness of Robust Methods in Heterogeneous Linear Models
2003
GruF
8
0.1
Berber M, Hekimoglu S
What is the reliability of conventional outlier detection and robust estimation in trilateration networks?
2003
11
0.1
Schon gewusst?

= offener Zugriff,

= beschränkter Zugriff,

= nur für HTW Nutzer,

= kein Online-Zugriff